Milan
Milan is the global capital of design and fashion and the economic heart of Italy. Milan houses some of the worlds most famous artworks such as The Last Supper by Leonardo Da Vinci and is home to some of the biggest fashion brands. A city that holds the highest number of Michelin star restaurants in Italy means you can dine on the best food, or find a local Italian cafe to sit and drink some of the best caffè.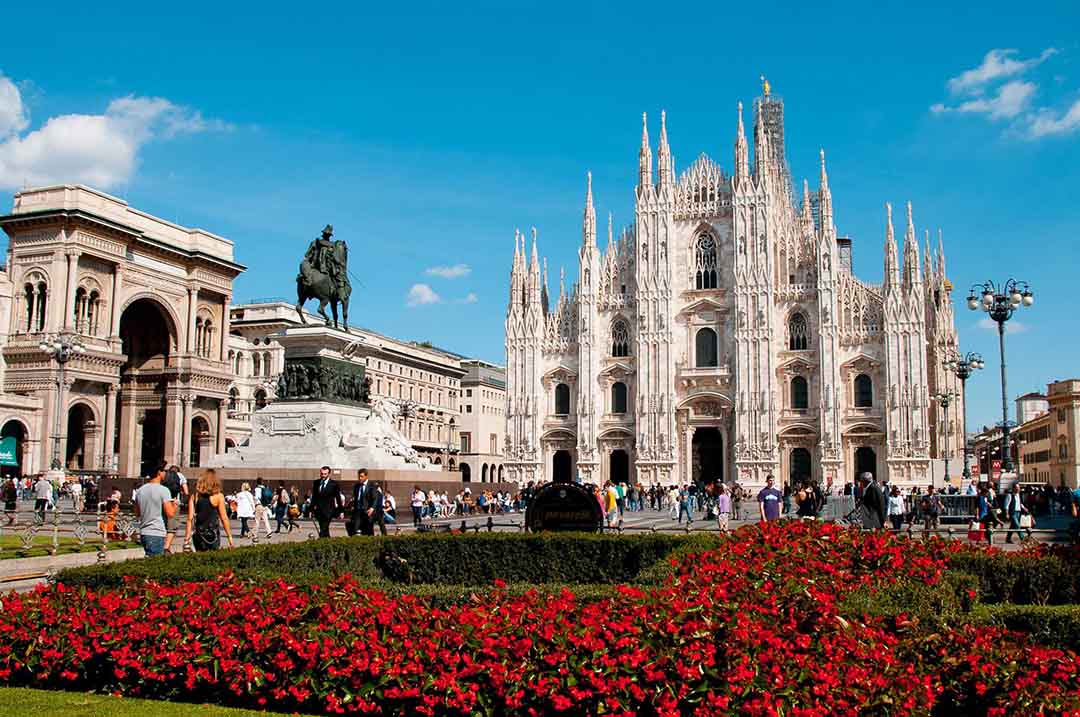 The Duomo, or Cathedral of Milan, is the number one place for tourists to visit. Monumental building amazes by its unbelievable architecture and long history. The cathedral is situated in the centre of the city: all streets that surround it make a circle. The rich exterior of the cathedral consists of spectacular detains and extravagant gothic elements. Inside, you will find fascinating altars, marvellous religious paintings and marble statues. You can also take part in an exciting trip climbing the roof of the cathedral. From that point, you would be able to see fabulous views of the city.
In the centre of Milan, you can find the most entertaining and spectacular mall, which would be a place of great interest for shopping fans. Hundreds of small shops, a huge variety of choices and many well-known brands such as Valentino, Prada, Louis Vuitton and others. Galleria is built from glass and iron, and its ceiling is made from many mosaics, which make the place a truthful masterpiece of art. The Galleria is famous not only because of hundreds of fashion shops but for relaxing and laid-back cafes, where you can feel the atmosphere of romantic Italy.
An activity, which is almost mandatory for tourists visiting Italy, is having trips on the Navigli canals. The system itself consists of five canals. On the banks of each canal, you can find many entertainment units, including bars, restaurants, karaoke, museums and shops. Canals were used for irrigation, but nowadays riding a boat is one of the most common attractions in Italy. Naviglio Grande is the most popular canal among tourists, especially during the summer season. You can rent a boat and enjoy the picturesque views of astonishing Italy.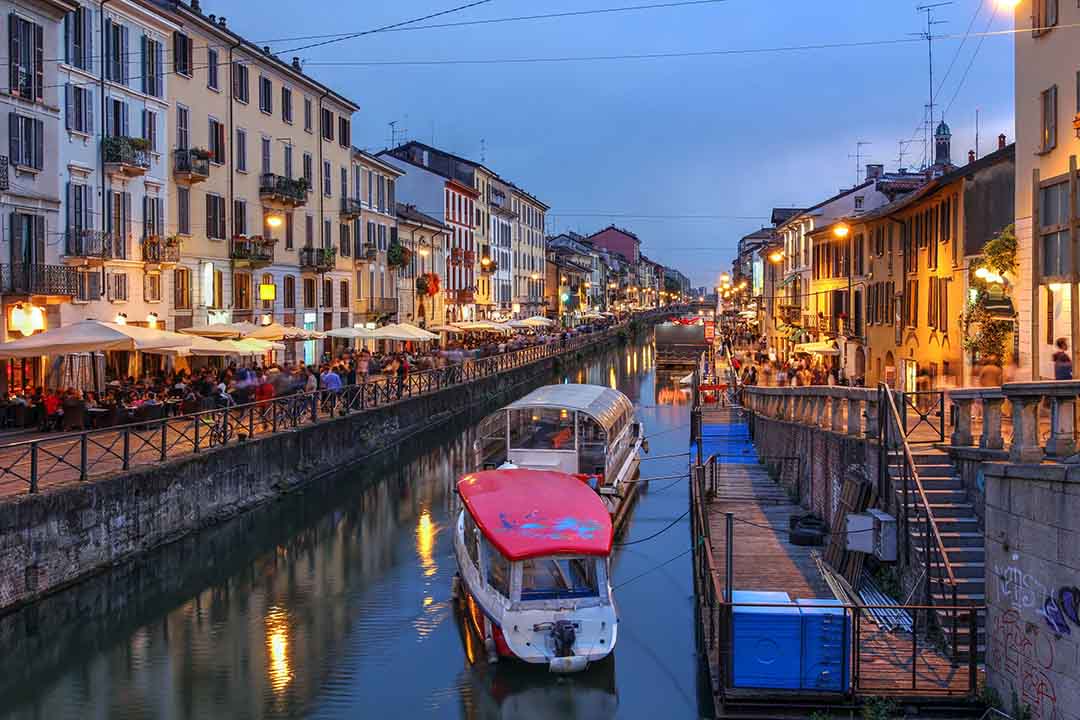 The finest and the most adorable among fans of the theatre place to visit in Milan is Teatro alla Scala. It is an unbelievably huge building, decorated with amazing details and creative ornaments, where you can see a lot of well-known performances. Traditionally, the season for plays at La Scala opens in early December. Starting from that time, visitors are able to become a part of fabulous art, enjoy local culture and broaden their own outlook on many social things.
Santa Maria delle Grazie is one of the most spectacular places to see in Italy. Inside you can see one of the most outstanding masterpieces of humanity ever: Leonardo's Last Supper. A special perspective and striking efforts to save the original of the picture led to our today's ability to see it untouched by time. The church by itself is a monumental result of the most famous architects. Beautiful frescoes, enormous columns and a mysterious atmosphere attract many curious tourists from all over the world.
Milan is the capital of fashion and thus, visiting Milan for shopping has become a dream for millions of people. Armani, Versace, Gabbana, Chanel fashion houses are excited to show their new collections and bring into a crowd the unique taste of beauty. Fashion District is a small town in a big city: neat streets, smiling people, pedestrianized roads and an outstanding sense of style. Via Montenapoleone is the most famous fashion street in Milan, where you can find clothes which will emphasize your individuality.
You can enjoy the most prominent Italian cultural events and exhibitions visiting Sforzesco Castle. It has a long history and outstanding architecture. The Castle was built in the 14th century and even though it was several times renovated from that time, the building still has its charm and maintains the atmosphere of ancient history. Castle has free admission, however, you will be charged if you want to visit castle museums.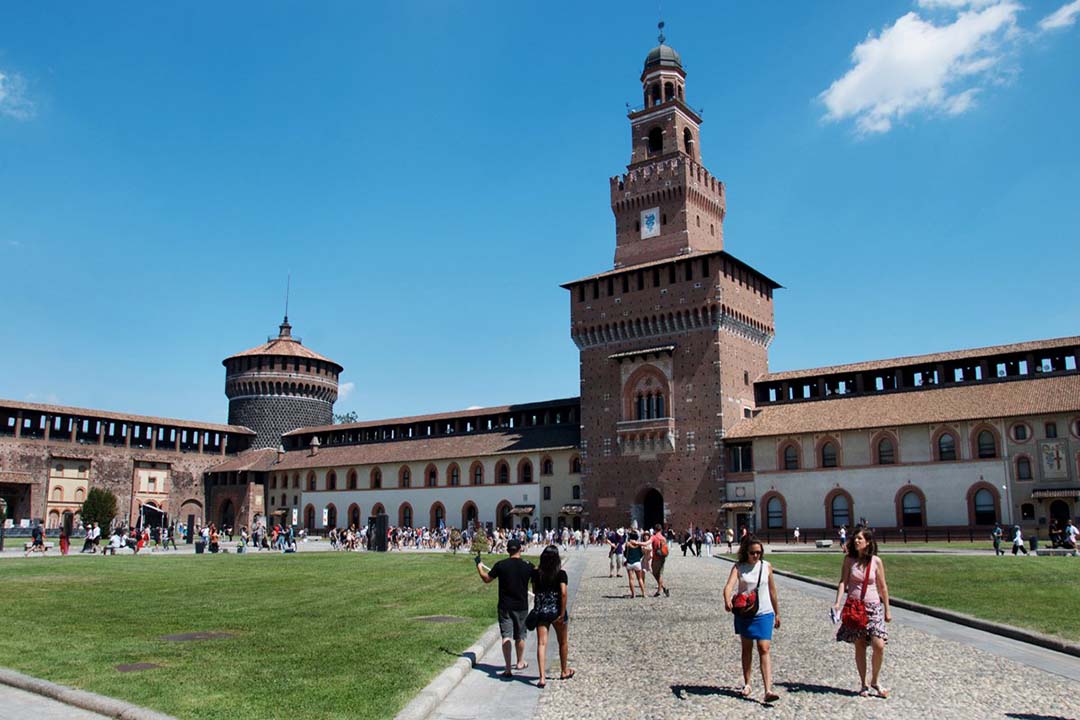 If you want to feel the unique atmosphere of Italian art, you should put Pinacoteca di Brera on your to-do list. The fascinating galleria hosts tens of the most spectacular art exhibitions in the world. The building also contains the academy of fine arts of Brera, which is well-known for its prominent graduates and high level of education. Brera National Art Gallery is recognized as a national Italian heritage.
Central Station is famous for its amazing and unusual stations design. Station was first opened in the 19th century and was several times renovated from its original opening date. From year to year it was more and more modernized and today we can see it as an absolute masterpiece of art. Every day it serves millions of passengers and operates almost 600 trains/day.
Basilica of Sant'Ambrogio is one of the oldest churches in Milan. The building has a huge dramatic history and scenic architecture. The finest reliefs and amazing mosaics make this place unique and attractive to thousands of tourists.